Hi all. Thanks to everyone who has chipped in towards running costs so far, I've been told numerous times to demand a subscription fee but i think this will put members off, we have a great bunch of people on here and the system works as it is.
Money goes mainly towards hosting/domain costs etc of the website.
if you want to Donate, just click here:
http://redirect.viglink.com/?format=go& ... o%20models
)%20%E2%80%A2%20View%20new%20posts&txt=Keep%20TalbotOC%20running%20-%20Donate%20towards%20the%20running%20of%20the%20club%20HERE%20(do%20not%20use%20the%20chest%20at%20the%20bottom%20if%20it%20displays%20in%20%24)
click on "add instructions to seller"
and add your TOC username in that box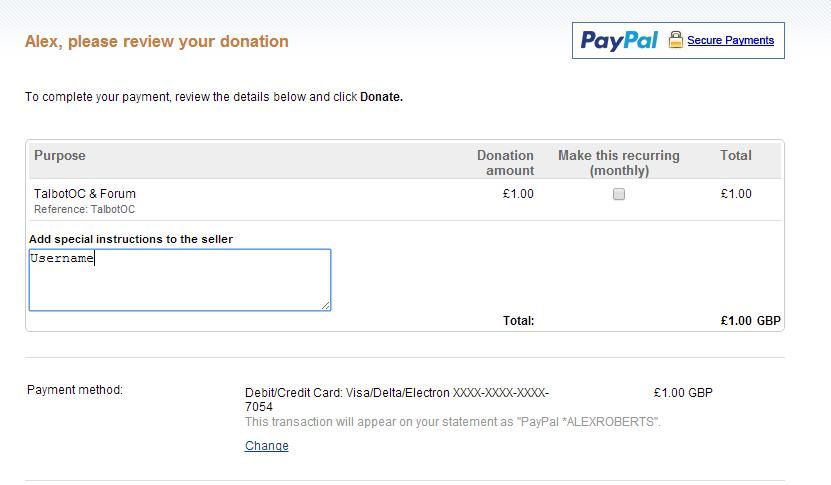 I then have to upgrade your account manually, usually will have it done pretty quickly depending what else is going on
after donating you get access to some nice little features such as member discounts with insurance companies, parts suppliers etc. you also get access to the guide & how to section.
there's no minimum donation as everything helps and it all goes to funding the server costs, to donate click here:
https://www.paypal.com/cgi-bin/webscr?c
... ZP69HMXK64

_________________
TOC Relies on donations to fund the site. Donate towards the running costs here: http://goo.gl/9AiJg


1990 2.5D Talbot Express Highwayman / PAS / 80w Solar system / Running 100% Biodiesel